Our camping cabin in the garden is especially suited to young and young at heart, independent travellers such as walkers or surfers who want a base close to brilliant beaches, great walks around the coast and the pubs, restaurants and other entertainments of the North Devon Coast. It is basic, but cosy and quirky and comes with optional breakfasts! It is good for couples, pairs of friends and solo adventurers.
What guests are saying:
"Kate and Angus' place is a great spot for everyone looking for an unusual cosy stay with the locals. The cabin is very well equipped with all you can need and offers some amazing views of the wooded valley and its wildlife. Lee is a great little village with an amazing pub (Friday's Open Mic was great) and some breathtaking walks in the area. Thank you so much again for having us, we hope to be back very soon! P.S. Kate's breakfast was delicious, highly recommended!"
Charming rustic cabin nestled in trees and 20 minute walk to the sea. Charlton Cleave (main house) is host to Mole Cabin along with Badger and Toad Hall. There is a separate shower/toilet room, shared also with the other two cabins. Mains water and electricity, kettle, heater and wifi. Beds can be arranged as twin or double. Great for hikers, with its location just off the Southwest Coastal Path, and an Ideal retreat to unplug for a while. There's a pub in the village, approx 15 mins stroll.
What guests are saying:
"The cabin sits in a really unique setting- unlike anywhere I have experienced in Devon before. The amount of nature surrounding the cabins is astronomical for the U.K. really- it being secluded and very natural with little disturbance means the lay animals and wildlife can call this site home and you feel as though you really are somewhere special when you get to witness the animals that are on site. The cabin itself is magical very much a one off the history of the site is interesting and Trevor is happy to chat and explain these features to visitors. I found Trevor was working hard to keep the communal bathroom clean and safe for guests during this summer due to Covid and I found this really considerate and conscientious of him. The cabin was very comfortable and had everything I expected to find in it and was a good temperature during the day and night even in very hot strong sunlight or rain- it's well insulated and so never got either too hot or too chilly."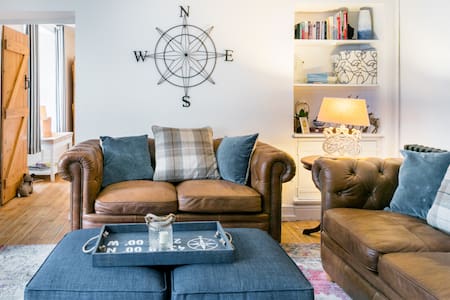 PLUS
Entire cottage · 7 guests · 4 beds · 2 baths
Beachside Cottage with a Log Fire in Picturesque Lee Bay
Get into a suitably seaside frame of mind by opening windows wide to let fresh ocean air waft through blue-and-white rooms. After a bracing ramble to the beach, get cosy on leather sofas by a log fire or take a slow bath in a warm tub before bed. Why not enjoy the striking green private and secure garden with stream trickling past.
What guests are saying:
"We had a wonderful time at the cottage. We chose the property as it wasn't too far from ilfracombe & we were attending a family wedding there. The property had the required number of bedrooms & looked nice from the pictures. It exceeded our expectations, it was a very welcoming property & very thoughtfully decorated & furnished in keeping with the style of a country cottage but with modern amenities such as good pressure showers, all kitchen facilities you'd expect plus the nespresso machine!!"