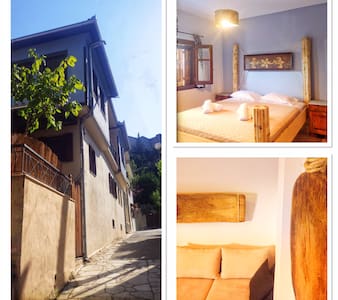 SUPERHOST
Entire house · 6 guests · 3 beds · 1 bath
Varousi.Traditional house in old town of Trikala 1
«Διαβάστε προσεχτικά τις οδηγίες άφιξης» Παραδοσιακό σπίτι στην παλιά πόλη των Τρικαλων στην συνοικία Βαρουσι στον λόφο του προφήτη Ηλία κατω από το φρούριο.Σε ενα καταπράσινο, ήρεμο περιβάλλον μόλις 5' από το κέντρο της πόλης «Please read the instructions of arrival» Traditional house in the old town of Trikala in the neighborhood of Varoussi on the hill of Prophet Elias below the fortress. In a green, tranquil setting just 5 minutes from the city center A district resembling other seasons  
What guests are saying:
"Excellent people (the owners), excellent house, spotless, in one of the most beautiful neighborhoods of the city, fully equipped, very beautiful decoration, excellent communication ... I highly recommend it "
Το διαμέρισμα βρίσκεται σε μια ήσυχη γειτονιά μόλις 170 m από τον Μύλο των Ξωτικών, 7 λεπτά με τα πόδια από το σιδηροδρομικό σταθμό και 15 λεπτά από το κέντρο των Τρικάλων. Ο χώρος έχει διαμορφωθεί και διακοσμηθεί με καινούργια έπιπλα έτσι ώστε να είναι κατάλληλος για μια ευχάριστη και άνετη διαμονή.
What guests are saying:
"Really great hospitality from Mrs Aphrodite and her husband! From the first moment we stepped on our feet, even in a very difficult time due to New Year's Eve, they have been happy to help us explain everything. Their home in a really good location very close to the elf mill, where we went almost every day of our stay to thank our 2 year old daughter! We were 3 members in the family with our baby and we really didn't miss anything at home. Everything was inside and Mrs. Aphrodite took care of it. It was also very warm and spotlessly homemade. I really recommend it for a highly reserved stay!"
Το σπίτι μας βρίσκεται στην πόλη των Τρικάλων, πολύ κοντά στο Μύλο των Ξωτικών, το περίφημο θεματικό πάρκο των Τρικάλων για την περίοδο των Χριστουγέννων και όχι μόνο! Ο χώρος είναι ζεστά διακοσμημένος, περιποιημένος και φιλόξενος, με άνετο κρεβάτι, κουζίνα και αυλή. Είναι κατάλληλος για ζευγάρια, δραστηριότητες για ένα άτομο, επαγγελματικά ταξίδια.
What guests are saying:
"Great stay! Practical, attentive and clean accommodation with heating and hot water 24/7. Ideal for two people and an 18 month old baby. Immediate access to the elf mill (ten minutes walk and 5 minutes by car). Quiet neighborhood, comfortable parking space. The city of Trikala in 10 minutes. Constantine an excellent host. Accurate, consistent and discreet. We were provided with a baby cot, so we were saving extra money, guiding us through everything we needed and feeling at home. When we visit Trikala again with our little kid, when he gets a little older, we know we will stay! Have a good year and thank you very much for the hospitality!"