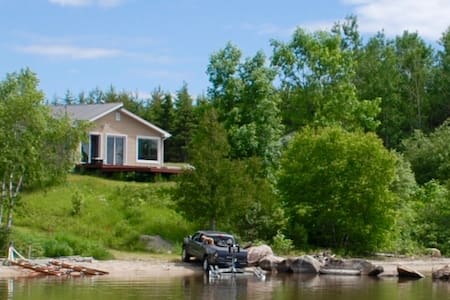 SUPERHOST
Entire cottage · 2 guests · 1 bed · 1 bath
Timiskaming Region | Pet-friendly Private Cottage
All-season pet-friendly refuge located on the lakefront is a gem with a private cove and sandy beach. In the summer, the slow incline into the water makes swimming easy accessible. Activities galore: fishing, boat outings, hiking etc.. A modern, cozy cottage with a cast-iron fireplace, an outside BBQ. Winter past-time favourites include ice-fishing, snowmobiling. We cater breakfast, meals, snack-packs with homemade & local items and property-own fresh eggs & honey at an additional fee.
What guests are saying:
"What a special spot! We enjoyed 5 nights at Felicitas' amazing cottage and couldn't be happier with our overall experience. The cottage is very clean and well-cared for. You can tell Felicitas and her husband Ron take great pride in their property and they want their guests to have a wonderful experience. We enjoyed relaxing on the deck, sitting on the beach, cooking meals in the well-equipped kitchen and on the BBQ, having bonfires at night, exploring the lake by canoe and soaking up the sunshine. We brought our dog with us and he truly had the time of his life swimming, running on the beach and playing with Felicitas and Ron's incredibly sweet and friendly dogs. We also ordered a few catered meals from Felicitas and WOW - if you stay here you MUST do the same! She is an amazing cook and the food was delicious. Comfortable bed and pillows, great layout and space in the cottage, smooth check in and all around great hospitality. Felicitas and Ron's house is next door but the cottage is quite a distance from the house and feels completely private. We are already hoping to return again next summer!"
3-star chalet located on the majestic Lake Témiscamingue the Tourterelle cottage offers a breathtaking view and an extraordinary corner of paradise. Relaxing and sheltered from prying eyes, let yourself be tempted by a summer and winter spa with a magnificent view of the lake.
What guests are saying:
"Location: -close to town for grocery/alcohol/gas supplies. -lots of privacy, other cabins not so much. -common private deck shared with resort guests, hardly anyone uses it, but it's decent. no beach, just a deck to sunbath and get into water. -go to bannick for public beach. Chalet: -clean with many toiletries and plenty of towels. -hot tub nice addition and is pretty private with tree surroundings. -two AC so plenty of ways to cool down during hot days -cliff/ledge a potential concern for small kids or pets. we had a dog and we were extra careful as hares were around and dog could chase without seeing the ledge. overall really enjoyed this place and would recommend; other neighbouring cabins weren't busy so you could enjoy the feeling of remoteness. would definitely recommend and would love to go back! "
A new Western Red wood Cedar Cabin on a wonderful spot: a rocky peninsula on water, pines, loon calls... sunset deck exposure to enjoy nature at it's best and water reflections from each room. The Cabin, an articulated 13 corners structure on two levels, face the lake on three sides and is the only one visible while canoeing the 500 acres lake...great fishing (mainly Lake Trout and pikes), road access, dock to dive into the lake facing west and beautiful sunsets. TAX INCLUDED PRICES.
What guests are saying:
"Stefano's place was beautiful, in the middle of the forest on a private lake! We were very pleased not to run into any bears during this trip as the area has a highly concentrated bear population. The cottage was clean, and fully stocked. The only downside would be that we went to the cottage during a very hot week and the air was not circulating properly in the 2nd floor and it was very very hot, despite the little fan provided. Also, the bathroom only had an oval tub, and it was very hard to shower without getting the entire floor wet. Maybe a curtain ? Otherwise, the stay was perfect. Thank you"