A entire small cozy log house on a fenced land, designed for holidays, leisure, or working in a quiet place. It is situated on the outskirts of the village Jazernica, near a unique little lake, which is a protected natural heritage site near the Teplica's picturesque meanders (app. 70 m) in the Upper Turiec region with the Turiec river and Veľká Fatra and Malá Fatra national parks.
What guests are saying:
"Ms! So this was an experience. Really luxurious accommodation that is hard to see. Especially in this price range. Beautiful log cabin, luxuriously equipped. Everywhere clean. I fell in love with the fireplace and the stove. Provided all comfort. In the cabin you have everything you could need, including basic food. Firewood is a matter of course. On arrival we were very welcomed and received a welcome bottle of dry red and also "potato pancakes", which we love so much. Dušan and Magda are wonderful hosts who have warmly welcomed us and it is a pleasure to talk to them. On the other hand, they also gave us complete privacy. We felt like dear guests and we hope to come back here again. I highly recommend to everyone. A better place is hard to find. At least for us. Thank you very much."
Domček sa nachádza na dvore za rodinným domom majiteľov. Má plne vybavenú kuchyňu prepojenú s obyvačkou s TV a rádiom. Spacia časť má v jednej izbe 4 lôžka + nad touto miestnosťou sa nachádza povala s prístelkami pre 2 osoby. Lokalita Mošovce ponúka výborné možnosti na turistiku a cykloturistiku. Najkrajšia dolina na slovensku (Gaderská dolina) je vzdialená 5km, Spa a Aquapark Turčianske Teplice 6km. V obci je kúpalisko, reštaurácia, pohostinstvá, krásny park ...
What guests are saying:
"We stayed only for night before next days short departure for hiking. Place is on the backyard of the owners house, very clean and stylish. Communication was great, also check in was no problem despite our quite late arrival. Thanks for the stay."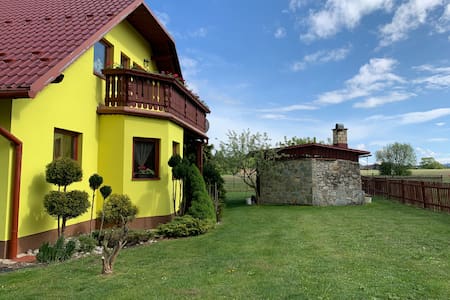 SUPERHOST
Entire apartment · 7 guests · 4 beds · 1 bath
1st floor apartment on the edge of the countryside
Rodinný dom sa nachádza v blízkosti kúpeľného parku cca 7 min chôdze do centra mesta. Apartmánové ubytovanie je situované na prvom poschodí rodinného domu s vlastným vchodom. K dispozícií sú dve 2-lôžkové izby a jedna 3-lôžková izba s veľkým balkónom. Každá izba má TV a WIFI. Kúpelňa s WC a sprchovým kútom. Kuchyňa je kompletne vybavená. V záhrade je k dispozícií altánok s krbom. Parkovanie je možné na parkovisku pri rodinnom dome. Ubytovať sa so psom nie je možné. V dome je zákazané fajčiť.
What guests are saying:
"Great accommodation at a great price. In Slovakia it is common to call yourself 100 or more Euro for totally tragic accommodation, which is not the case. If you're traveling around Turcianske Teplice, don't hesitate to book if it's still available."