Large 2 bed 2 bath basement in an Adobe style home. Fenced in 2 acre area. Home sits on 40 acres in East Hatchet Ranch about 20 minutes south of downtown Pueblo. Less than 30 miles to the San Isabel Mtns. Great location for hunters, campers, and hiking enthusiasts. Also includes kitchenette with fridge and small toaster oven. Dogs are welcomed as long as they are friendly. Own entrance is a walkout basement with plenty of parking near the door. Big screen TV and one small TV in the bedroom.
What guests are saying:
"This was an amazing house in the peaceful countryside. The grounds were beautiful and the space was huge. It was basically an entire house but in the basement. This had so much room you could stretch out a lot and enjoy yourself. Watching a TV was almost like being in the theater. Definitely worth the stay. It would have been great to spend several days there. Only downside was when one of the large dogs jumped into our brand new car and left paw prints on the seat and console, while freaking out the wife. The little pup likes to jump up on you. Glad they were friendly. But you don't know that until you get to pet them."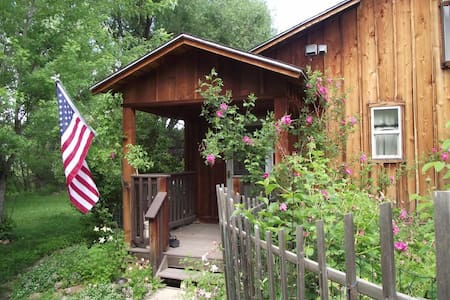 SUPERHOST
Entire cottage · 4 guests · 3 beds · 1 bath
Whispering Pines - Cottage on a creek, Beulah, CO
SANITIZED COTTAGE Enjoy a relaxing few days in the beautiful Beulah Valley away from the city. Cottage is on 7 acres next to Squirrel Creek. Shares grounds with main house. Plenty of hiking and adventure in the surrounding areas of Westcliffe, Rye, Canon City, & more! Well behaved and leashed pets welcome - $10/night fee. Start your day with coffee on the deck listening to birds and Henry, the rooster. Airconditoned and heated. Not suitable for hunters.
What guests are saying:
"Cabin is a little small but in great condition and our family of four had enough room for our week long stay. The kids loved the spiral staircase and loft area with their two beds. We spent much of the summer afternoons sitting in the Adirondack chairs in the cabin's yard, which is a shady idyllic place to relax in. Hosts were very accommodating and a joy to talk to. Kitchen was well stocked and had some surprises. We saw deer, hummingbirds, and squirrels everyday and a black bear a couple nights. Because of the bear, they have an electric fence around the bee and chicken keeps. This fence is right next to the cabin but only activated at night. It was definitely an extra concern because we have two small kids, but it was manageable - our kids were asleep by the time it came on anyways. Hosts were very friendly and kept us in the know about when it would be on/off. The location is just enough in the mountains to really feel like your are in the Rockies. There is a nice park just a couple minutes up the road with a handful of beautiful hiking trails - Pueblo Mountain Park. We had the best experience, highly recommend."
This spacious A-frame cottage was built in 1969 by the Chief of police and Captain of the fire department. Being that this home is all original from 50 years ago should give you the perspective and appreciation of how well kept up, and taken care of it is. I am in the middle of working on a couple updates to the home using beetle kill Pine. It is a museum in some aspects. Very cozy and comfortably large area to relax in. Unique in it's own way.
What guests are saying:
"The house felt just like home! Awesome decor and ambiance throughout. It was a bit stuffy in the house during the day (we're from Texas and married to the A/C) but there were a few fans in the home to help out. We explored the surrounding areas during the day more often than we stayed at the house, it was comfortable at night with the windows open and the fans on. We had a few deer walk in the yard, and even saw a little fawn with her mother! Such a neat experience."