Very cozy house made of wood and cane, beach front, very close to restaurants, local police and shopping area. There are two bicycles for walking and full breakfast include. We also have another house very similar next door. https://abnb.me/X2jzZr7kt2 We personally deliver the house giving extensive information about the area and the house. Varied breakfast is included and you will find it in fridge for you to do it to your liking. Wifi, bicycles, barbecue, beach games, amacas, etc...
What guests are saying:
"We spend half of our honeymoon at a fancy resort and half at this AirBNB. We are very happy with that decision! The place is overlooking a private beach with a gift shop below. The prices for everything at the gift shop were way better than anything you'll get at a resort, and the owner was super friendly. Jose and Amuary stock the fridge and pantry with things you'll need for breakfast/snacks and there are other amenities throughout such as snorkeling gear, bug spray, towels, and toiletries. Simple ham and cheese sandwiches cooked in their panini press with a bit of tobasco we're surprisingly tasty. They left several menus of surrounding restaurants on the counter. I was able to text one on WhatsApp to get food delivery and another night we walked two buildings over to get a great fresh seafood dinner (but the workers there were a little more pushy!). They had bikes for us to use to get to nearby places. The closest restaurant was maybe a 3 minute bike ride away and the main commercial plaza was 6-8 minutes away. After visiting once we decided we enjoyed staying in our private area more than going out! We went right as coronavirus was getting started so people were sparse. That said, we felt safe the whole time, there is a police/marines building literally 20 yards from the apartment. We had no issues (besides coronavirus worries) and Amuary and Jose were very accessible through AirBnb chat and WhatsApp. If you don't know any Spanish the communication might be difficult, but using the WiFi and Airbnb's built in translation made it very manageable. Overall we had a great stay and would come back."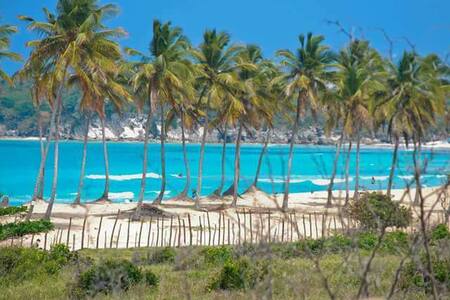 SUPERHOST
Private room · 5 guests · 1 bed · 1 shared bath
"An amazing place with two incredible hosts!"
Located in the village of Macao HIGHLIGHTS: Safe, Great WiFi, 24 hour electricity, Screens on all windows and doors, Hot water, Smart TV, Walking distance to beach, Meals **PRIVATE ROOM** Macao Beach is paradise with magnificent views! Your Dominican host welcomes you to his authentic home with upgraded amenities (24 hour electricity, hot water, great wifi, smart TV).
What guests are saying:
"We spent Christmas with Eulises and Erica and it couldn't have been nicer! The two are so incredibly warm and hospitable. The stay far exceeded our expectations. It was like visiting our family. Thanks a lot for this! We recommend everyone to choose this property. Facts that are certainly important for other travelers: We had a couple of accommodations in the Dominican Republic and this was by far the best. The accommodation is great! clean. There is also 24/7 hot water and electricity. Erica makes meals with meals every day if you want. We can only recommend it! You rarely eat so well and varied. She also takes personal preferences into account. The two have two cats and a dog. Everyone is absolutely friendly and cute. We personally are very fond of animals and this only made our stay even better. We had a great time with all animal family members. The beach is great for surfing or learning to surf. And if interesting for someone: we always felt very safe. There were no concerns! Eulises & Erica: thank you for the great time! We always enjoyed breakfast and dinner together. In addition, the great conversations and very funny evenings with your card game. And of course the regular trips to the beach :) If we come to the Dominican Republic again, we will definitely visit you!"
SUPERHOST
Entire bungalow · 6 guests · 3 beds · 3 baths
Tropical chic Bungalow with pool near playa Macao
Experience the feeling of living under a ¨cane¨ ceiling, in a Tropical Chic style cabin, where each element is designed to obtain maximum comfort, in direct contact with the nature that surrounds it, and with a decoration and exquisite architecture.
What guests are saying:
"I cannot rave enough about this spot. The pictures do not do it justice. It's beautiful, quiet, cool, and so so green. We had someone come clean around the house almost every day and someone cleaning the pool. The cook was not available but our super sweet cleaning lady (I feel awful I can't remember her name) was able to accommodate a large dinner for us and it was DELICIOUS. She wasn't the chef but she did not disappoint. Each room has its own bathroom and they're so relaxing. I didn't feel at all awkward showering outside as everything around you is closed for your privacy. It was really refreshing and would definitely be dreaming about that experience for a long time. The rooms were airy and clean. The beds were super comfortable and fans were a nice touch if the evening breeze didn't cool you down. The property is full of vegetation as soon as you pull in. There's plantain, banana, peas, avocado, guanábana, and mango trees which added to the beauty of the house. It was lightly decorated so that the space spoke for itself and everything just felt so organic. Literally in love with the house. I do recommend buying your own shower amenities. But the house is equipped with things you didn't even think you'd need. Fans, bags you can take to the beach, insect repellent, reading magazines, dominos, haha literally so many things. Guzman was an excellent host and suggested places to go eat and things to do even through the middle of the pandemic. He was really good at replying and super nice at telling us to keep the noise down when we exceed the noise curfew (by quite a bit, sorry!). Can't get enough of this place. I would buy it if I could. Also super close to the beach and by loads of buggies and 4x4 activities. Twenty minute drive to el coco bongo night club which unfortunately was not opened due to Covid but still so fun! PLEASE PLEASE BOOK!! You will not regret it."