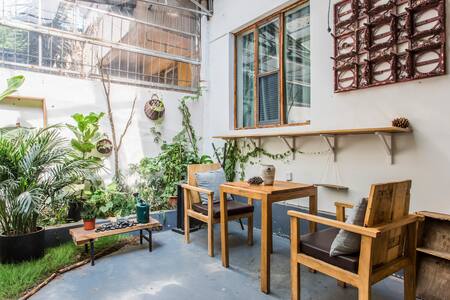 SUPERHOST
Entire condominium · 2 guests · 1 bed · 1.5 baths
【枕山小院】市中心100平独套庭院房•老昆明的一场邂逅•翠湖旁伊甸园•猫咪小院•故事昆明•艺术静谧地
咱家是被【云南电视台】采访过的民宿哦 详情图片有相关信息,在当地也算小有名气哦,需要视频的小友可以联系我们/ω\ 枕山|二十四节气 枕山入眠,机缘自李清照《浣溪沙》中的一句诗"梦回山枕隐花钿"。 本意还是希望民宿回归民宿,让来住小友能深入到当地生活,用当地人的角度感受这座城市,基于历史人文,本地自然、文化和生活方式,融入到老昆明的生活中去,将昆明特色和本地艺术家的想法结合,打造一个舒适惬意,有艺术气息的小院。 本套小院是枕山二十四节气系列里的惊蛰庭院 一眼相中大概是因为庭院之中绿植满院,微风凉如水穿庭而过,阳光悠然,偶的一只小猫来访庭院,在玻璃上跳跃打滚,懒懒的晒太阳,给小院徒添很多灵气。白日在这片盎然夏意里品茶冥想,体会老昆明的悠哉下午;而夜晚 蝉鸣月光中切瓜观影,是再惬意不过的了。 盛满四季风月,予你万千梦山可枕。 每当夏天的时候,我总是想起外婆家的收音机,在清晨的时候播报新闻,或者是外婆最爱的咿呀戏曲,那绿意盎然的庭院和在树影下斑驳的木质家具,混合出了令人着迷的木调香,院子里猫咪在玻璃庭院顶翻滚打闹,昆明的一天,就这样开始了。 现在,我想把这份老昆明的感觉,传达给你。
What guests are saying:
"Absolutely, everything just fits. The location is very good, very close to the city center, and there is a lot of food right in front of the community. There are three subway stations around, the disadvantage is that each one has a distance, it is more convenient to go out for a taxi. The house is large, living room + bedroom + bathroom + small bar + yard. Living with my girlfriend is very spacious. The yard is decorated with care, and has a lot of details and beauty. It is recommended to take a detailed picture and take more pictures."
[One House] is located in the core business district of Nanping Pedestrian Street, surrounded by the Justice Square, Nanxiang Snack Street, Jinmafang, etc. Equipped with simple pots and pans, Carrefour downstairs, you can do it yourself.
What guests are saying:
"The owner of the house is very attentive and responsive. Very impressive Call a taxi Directions clearly and easily The bedroom has a heater. The room is lovely. Impressed. Try to come."
(Each customer will be fully disinfected before moving in, please rest assured.) This is an independent apartment, renovated in 2018, located in the downtown newspaper Shangdu Commercial Building, inside the bathroom and kitchen are independent Yes, there is no need to share space with other people. You can cook and have all the kitchen utensils. There is KFC downstairs, next to Kunming's largest farmer's market-Zhuanxin Farmer's Market. 1 km away from Kunming's most famous hospital-Yunda Hospital. 1.5 km from Kunhua Hospital. It is an 18-minute walk from Panjiawan Station of Metro Line 3 and a 5-minute bus ride. Convenient transportation and safe accommodation. There are dry cleaners, post offices, banks, hospitals, pharmacies, restaurants, and Yunnan snacks downstairs. There are many parks nearby. The nearest is Zhuantang Park and Maitreya Temple Park. You can interact with the red-headed gulls in a 5-minute walk. 2 kilometers from Cuihu Park and 2 kilometers from Nanping Pedestrian Street. Check in with the password. The tatami Japanese-style homestay designed by the landlord himself, all bedding, towels, bath towels, etc. are five-star quality, soft and comfortable, clean and tidy. There can be kitchen utensils in the house for cooking. Kungfu tea set allows you to savor the fragrance of Pu'er tea. There is a 100-inch high-definition projector, which is a theater at home. There is a paid parking lot downstairs. If necessary, you can contact a reliable private car driver to pick up and drop off the airport, and the fee starts at 100 yuan. In addition, please note that you will need to pay a deposit of 200 yuan to stay in this homestay.
What guests are saying:
"Hygienic and clean, convenient transportation, you can cook. Going downstairs is just opposite the vegetable market. All the ingredients are available for those who like to cook and picky eaters! The host sister is very enthusiastic and the strategy is very detailed! Thank you landlord for your concern!"