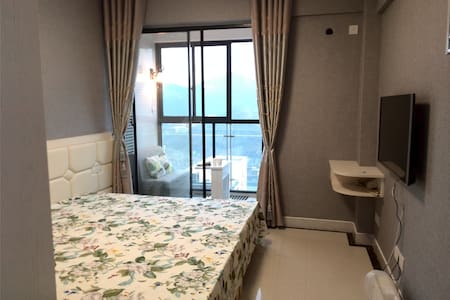 SUPERHOST
Entire apartment · 2 guests · 1 bed · 1 bath
独立房源可做饭,黄山绝美江景电梯房 2M超大床Big bed Fabulous riverview
Huangshan North Station can take a bus for about 30 minutes to the vicinity of the hut and walk for a few minutes. The airport is here for half an hour. King size bed 2MX2M suitable for couples or family of three. Don't want to share a variable two cot. The distant mountain view makes you feel relaxed. It is a matter of life to have a drink with a lover or a loved one at night. The cottage has a good edge and I wish you a good time. It takes about half an hour from the airport or high speed rail station to the apartment. The Super big bed, 2MX2M, is suitable for couple or a family of three. If you don't want to share, it can be two small ones . The river scenery makes you relax. Beautiful at night, drinking a glass of wine with your lover or families is really a pleasure in life. A blessing to meet you.
What guests are saying:
"The room is very clean, the room is very complete (there are cooking utensils, washing machine), the location is also good, very easy to find, the traffic is also very convenient, by the river, you can view the river view, sleep at night is very quiet, in short, the experience is very happy"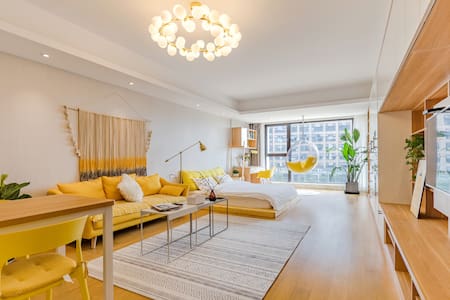 SUPERHOST
Entire apartment · 2 guests · 1 bed · 1.5 baths
【Asif.Home610】榻榻米+网红球+落地窗+中央空调+大浴缸+黎阳in巷老街新安江太平洋商场
屯溪老街 黎阳in巷旁 柏悅居公寓俯瞰外黄金位置 落地窗景观 市中心位置交通方便、文锋橋 、新安江、黃山學院校区 太平洋購物中心 等 . 公寓高品質装修,公共空间大,高品質,家居设备,55寸电视、全自動烘干洗衣機、冰箱 油煙機 熱水器 中央空調 地暖 等等应有尽有 床品浴巾毛巾 每客更换、公共空间保证卫生条件.
What guests are saying:
"The room is large, it is a soothing warm yellow tone, the bed is super soft, the design is also very nice, the most like the bathroom is super big and very clean and there is a bathtub, praise! The only thing is that the room is a little soundproof, but it is still a great homestay!"
您浏览的是【独享房源】,也就是房东不参与房源与您互动,您可独享整个空间。 【位置】周边500米有:大润发商圈、人民医院、百大商圈、银街地下商城。黄山真正的市区中心,不必多说啦。 【交通】下楼50米跃进路口公交站,300米宽网大厦站(21路公交直达高铁站哦!) 【房源】三室两卫两厅(140平),厨房可用,装备齐全,客厅、洗衣机都可用。(禁内衣袜) 【房间】分享出来的是一个主卧,带独卫。床品也是我百般挑选的,贼啦舒服,希望你来试试!ps:另有两个房间放杂物,是锁住的哦~ 【客厅】挑了一个宜家沙发,千辛万苦外地运过来,很舒服很喜欢,希望你也喜欢撒! 【厨房】冰箱微波炉都有,厨房用品一应俱全,可能全黄山民宿之最全,没有之一了~ 【装修】自己琢磨着搭配的房子,喜欢白色,没法藏污纳垢,一目了然的干净! 【房东】我自己,94年男生,摩旅爱好者,刚环游中国回来,对,骑着我心爱的小摩托。曾去祖国八方做客,现在也希望各地朋友到我家做客。干杯! 新人初做东,请多多指教!!
What guests are saying:
"Juju Juju Juju Juju Juju Juju Juju A good homestay is very cost-effective and the most important thing is that it really looks better than the photos! hin loves hin beautiful landlord is also great oh weeping! Everyone live for me! Love to die!"