The room is located on the top of Gangding subway station, close to the BRT bus line and convenient transportation, adjacent to South China Normal University and Taikoo Hui of Jinan University. Many mature business districts in the surrounding area can be reached within 10 minutes on foot. The sofa area inside the room was changed to a tatami cushion, adding two lazy sofas and a woven swing are very comfortable. Equipped with a 300-inch nut projector, it is very convenient whether it is a mobile phone screen or online viewing. The bedroom area uses a full set of IKEA products, and the mattress is comfortably equipped with a 60-piece cotton four-piece suit.
What guests are saying:
"The corner of the room is a little different from the imagination. It is a small table. If you want to see the projection, you can't lie on the bed. You are sitting on the bean bag on the small table, but it feels like this is not bedding. I often wash it, so it is not convenient to see the projection after taking a bath. The second is that the room lights are too dim. I think a brighter light is also needed. Then Miss Landlord's sister is very good, very good communication, there are no other problems, and the cost performance is relatively high. It is better to suggest that small problems can be improved."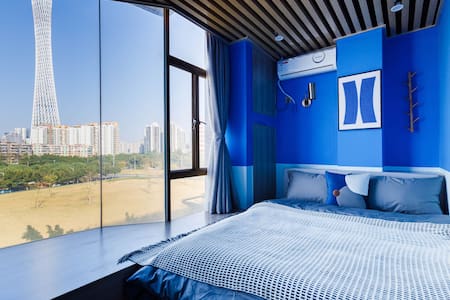 SUPERHOST
Entire apartment · 2 guests · 1 bed · 1 bath
蔚蓝海洋|全景落地窗独享广州塔丶近珠江新城CBD长隆野生动物园丶带暖气可制暖丶情侣首选丶拍照摄影圣地
1-Geographic Transportation Metro Station There are two Guangzhou Tower and Kecun Metro Stations on Line 3, which are about 8 minutes on foot. It is very convenient to take a taxi at the door. There is 1 subway station in Zhujiang New Town. There is no need to transfer to the airport subway, 6 subway stations in Guangzhou Railway Station, 4 subway stations in Guangzhou East Station 2- Room introduction Each room is an independent space with a different theme. The room is designed with floor-to-ceiling windows, and the lighting and scenery are first-class. You can see the entire Guangzhou Tower and the park in bed. Each room has Separate toilets with heating and air conditioning. Bedding is strictly changed for each guest. 3-Shopping district shopping houses are located in the central axis of Guangzhou, and there are many shopping malls in the surrounding area. The most recent is that food and beverage brands that are basically familiar with Liying Plaza have settled in, including Haidilao Dude Tao Tao Ju and so on. 4-Introduction to attractions The closest thing is the Guangzhou Tower attraction. A few minutes walk can take a taxi to Changlong in the past, about 20 minutes. Secondly, it is the Pai Pub Street, which is a must for local couples in Guangzhou.
What guests are saying:
"Super satisfied with this room, the night view is very nice, the traffic is also very convenient, the price/performance ratio is even less to say, it is a pity that I have not been able to stay a few more nights, I asked the landlord twice, I temporarily changed the itinerary, I want to stay one more night, but already There is no room, experience tells me that this homestay really needs to be booked early, at least about ten days in advance, otherwise it is difficult to book, and there is a possibility that the exfoliating shower gel may be a bit unused for a few nights. Other daily necessities are very complete, it is really good, so good a bed and breakfast"
Nomad's is an apartment transformed from the traditional Guangzhou building-Qilou, allowing you to experience Guangzhou's local life more deeply. You can walk to Beijing Road, the most prosperous commercial food pedestrian street in Guangzhou, in 7 minutes and 7 minutes. 5 minutes walking distance to the subway station. --Better sleep experience-- We care about the quality of your sleep, especially equipped with 1.80 meters of de Rucci chiropractic mattress, so that your spine "0" pressure, no burden, let go of all fatigue during travel. If you are in a hurry the next day, please turn on the alarm clock of your phone! Because our mattress is too comfortable, I am afraid you will oversleep. Because the landlords have cleanliness, our linens and toiletries are changed for each guest. We installed double-layer soundproof glass in the apartment, without asking for cost, just want you to have a quiet and comfortable sleeping environment. Enjoy the large private terrace in the room. --More favorable living price-- The apartment is equipped with a 43-inch 3D LCD TV and a built-in LeTV box, allowing you to choose live or on-demand at any time. In the morning, please let the capsule coffee machine wake you up, choose your favorite sandalwood, and choose a book we have prepared for you. With the coupon, you can enjoy the 5-star configuration at the price of the hotel. --Safer and more comfortable living environment-- The clean bedding and towels are changed one by one, so you don't have any worries. The door aisle is monitored by a 24-hour camera, ensuring the safety of people entering and exiting ***The house is located on the third floor, the landlords have done their best to create a staircase that is convenient for everyone to get up and down, but due to the unique structure of the old house in the Qilou building, and in order to let everyone better experience the characteristics of old Guangzhou, the stairs in the apartment are relatively steep and Narrow, mind the guests, please communicate with the host Chloe first!
What guests are saying:
"Chloe is really a great host, the layout of the house is very good, the design is unique and beautiful while making people feel comfortable, and the small objects in the homestay are too well prepared, I really feel at home, and I will hope Stayed here for a while. Qilou has a unique style of old Guangzhou. Lazy curled up on the sofa in the afternoon and watched the traffic flow out of the window. There will be unexpected inspiration. The sound insulation of the room is very good, and there is no need to worry about noise issues; the lighting is also perfect; the only drawback is the air conditioner. After feedback this problem to Chloe, she solved it very quickly and actively. Choosing Chloe's homestay made my trip even more pleasant and I look forward to seeing you next time."