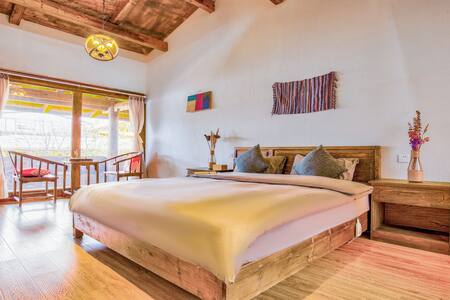 SUPERHOST
Private Kezhan room · 2 guests · 1 bed · 1 private bath
香格里拉/独克宗古城内/别致院落/阳光里的大床房/院内景观/繁星点点/入住接机接站
民宿位于独克宗古城,位置极佳,交通便利。出行非常方便。 民宿有棵超大枣树,有只金毛。惬意不过如此吧~ 哈哈。
What guests are saying:
"We stayed for two nights. The geographical position is particularly good, not far from the passenger station, just in the ancient city, a dozen or twenty minutes away from other scenic spots by taxi. You can take a walk to explore the ancient city of Dukezong, which contains the world's largest prayer wheel, a museum and so on. The whole bed and breakfast is a small courtyard house with a big jujube tree, which should be beautiful when blooming. We lived on the second floor, the room was large, neat and had skylights. There is breakfast rice noodles in the morning, so don't worry. There is a dog about the same weight as me in the inn. Very good ~ The next morning we arrived, it snowed heavily on goose feathers. It turned out that it really snowed in June. When we left, we went to Lijiang with the boss. Very talkative and humorous boss. I was very happy talking along the way. I also learned a lot from the boss. I hope I can book the owner's bed and breakfast next time!"
SUPERHOST
Private room · 2 guests · 1 bed · 1 private bath
Tibetan Woody Double Room with View free pick-up
We are located in the middle of the Dukezong Old Town in Shangri-la.A girl from Shanghai and a Tibetan guy run this guesthouse together,and there are several cute cats live with us.We have a small cafe and a adorable yard which you can spend whole day.There is one double in this room which can hold two people.We provide electric kettle,TV,free wifi,electric blanket,heater and disposable supplies in the restroom.Besides,we provide free pick-up service from the bus station and the airport.
What guests are saying:
"The location needs navigation to find, but it is not difficult to find that the butlers are all cute and unique people, the local man, the sister in Guangdong, and the retired aunt in Shanghai~ I will give a lot of suggestions for local play. The sound insulation effect is quite high. After all, it is a pure wooden structure house. There are several meow masters with distinct personalities like the masters. They are cute and full of spirituality."
庭院式咖啡馆,可以悠享brunch或下午茶,当地特色饮料和酒水。 还有一个小小的旅行杂货铺,有世界各地淘来的手工衣物、首饰。 提供藏装租赁服务,也可旅拍。 一楼客厅有上千册中英文图书可供阅读。 院子里养了一只秋田犬,名字叫哈奇,还可以和她一起玩儿。 藏式大床房,位于二楼,1.8米大床、独立卫生间。
What guests are saying:
"The Tibetan courtyard in the ancient city of Shangri-La is really very Tibetan-style and I like it very much. The stone road in the ancient city is not good for dragging boxes, it is recommended to come with a backpack! The room on the second floor has a great view, and the sun shines warmly in the morning. Shangri-La was very cold at night, there was an electric blanket in the room, my sister added a quilt for us, and the hot water was very hot, very comfortable! The only regret is that the itinerary is in a hurry and I did not drink with my sister! Next time~ I really like Shangri-La, I can come back many times"